AGRA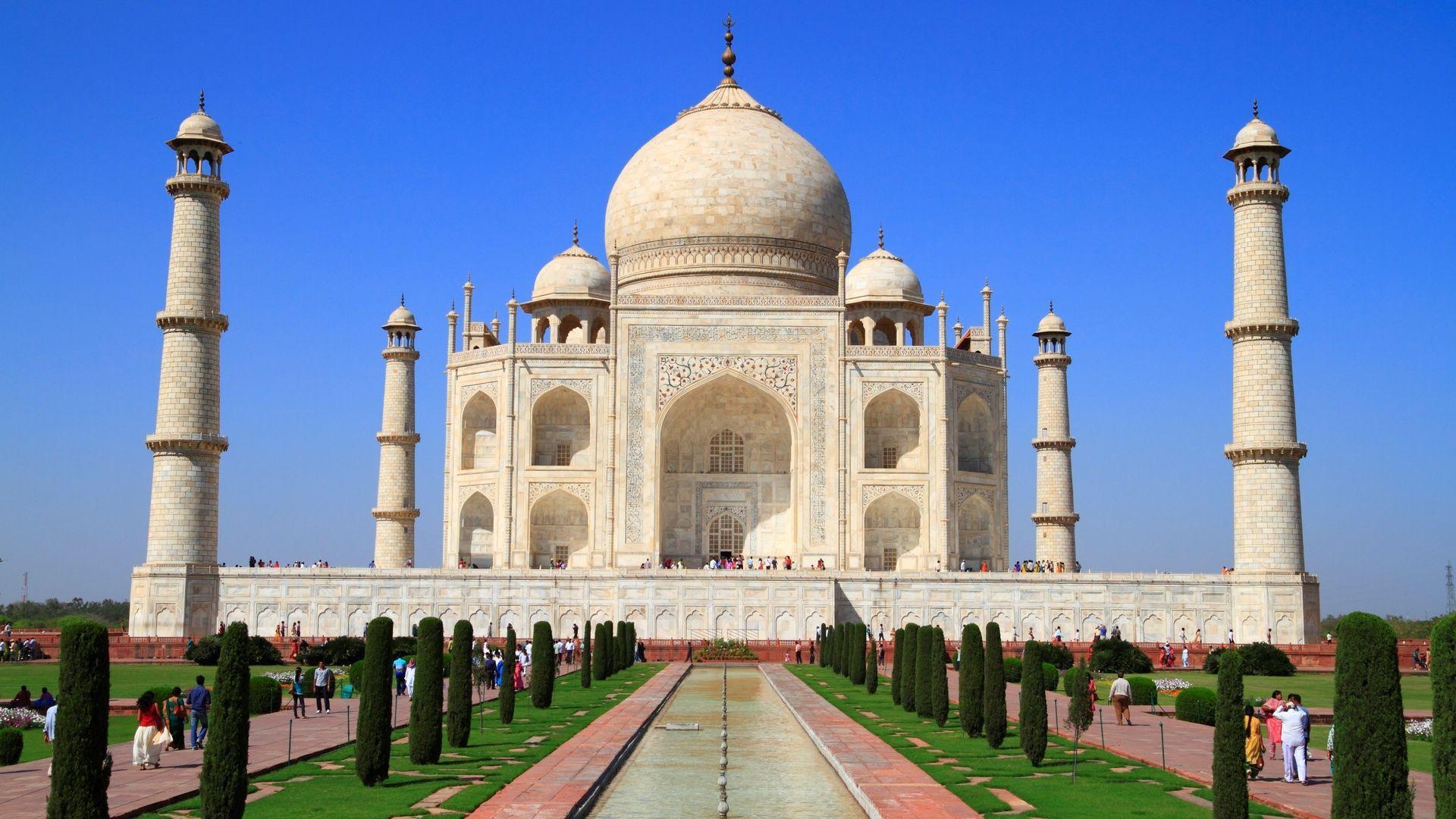 ABOUT AGRA:
Amazing Agra, immortalised as the 'City of the Taj', is the most sought after tourist destination of India.

Present city is said to be founded by Raja Badal Singh around 1475.

It became the capital of the Lodhi's and later came under the Mughals, when Babur defeated Ibrahim Lodhi in 1526 and established Mughals, when Babur defeated Ibrahim Lodhi 1526 and established Mughal empire in India.

Agra witnessed a frenzy of building activity during the 16th and 17th centuries, under the reigns of Akbar, his son Jehangir and grand –son Shah Jahan.

Magnificent forts, palaces, gardens and mausoleums were built, of these the Taj Mahal, the Agra Fort.

Akbar's abandoned capital of Fatepur Sikri; now feature on the UNESCO's list of World Heritage Sites.

The pomp and pageantry of Agra during this time was unrivalled and the city metamorphosed into one of the great centres of art, culture, learning and commerce.
MODE OF COMMUNICATION:
Airport: Kheria Air Force Station (AGR), Agra, 9 kms away from Agra city centre.
Rail: Agra Railway Station, Agra, 1.5 kms away from Agra city centre.
Road: Well connected with NH 2, NH 3 and NH 11.
SIGHTSEEING AT A GLANCE:
FORT & MONUMENTS

Taj Mahal

Agra Fort

Itmad-ud-daulah's Tomb

Radhasoami Samadhi - Dayalbagh

Sikandra, Mariyam's Tomb

Jama Masjid

Fatehpur Sikri

Buland Darwaza (Gate of Viceroy)

Sheikh Salim Chisti's Tomb

Panch Mahal

HOLY CENTRE

PARK & GARDENS

Mehtab Bagh or the "Moon Lit Garden"

Ram Bagh (Aram Bagh)

OTHERS

FAIRS & FESTIVALS

Taj Mahotsav

Bateshwar Fair

Ram Barat

Kailash Fair
For more information visit https://agra.nic.in/
ATTRACTIONS OF AGRA

Taj Mahal:
The icon of India was built by Emperor Shah Jahan for his beloved wife Arjumand Bano Begum, popularly known as Mumtaz Mahal, who died in 1630.

This sheer poetry in marble considered by many as the 'eighth wonder of the medieval world; is indeed the most extravagant monument ever made for love.

Rabindranath Tagore called it a 'teardrop glistening on the cheek of time'.

A garden laid by Raja Man Singh of Amber, on the banks the river Yamuna was chosen as the site for building the Taj.

Its construction started in 1632 and about 20,000 workers toiled for seventeen years to complete the enchanting mausoleum.

This image of Islamic garden of paradise is said to have cost nearly 41 million rupees and 500 kgs. of gold.

A township for the workers was built near the site and was named after the deceased empress – 'Mumtazabad', now known as Taj Ganj.

Unlike other tombs, the Taj is set on one side of the well laid out gardens measuring 300 X 300 metres, in the form of a quadrangular Charbagh style, with its square lawns separated by pathways, watercourses emanating from the central raised square pool and rows of fountains.

It is set on a 6 metres high marble plinth with four minarets at each corner of plinth, rising to a height of 41.6 metres and crowned by a chhatri.

Minarets are deliberately angled at 88 degrees outwards, so that during any calamity like, an earthquake, the minarets would fall away from the tomb.

Plinth is set on a sandstone platform and is flanked by two identical structures at the far end.

Structure to the left is a mosque and its jawab or echo on the other side.

Central bulbous dome of the Taj rising to a height of 44.41 metres rests on an extraordinarily high drum, with four chhatris on the corners.

Within the mausoleum is a lofty octagonal central hall and four smaller octagonal halls around it.

Just below the dome, in the centre of the main hall is the cenotaph of Mumtaz Mahal and to its left is the cenotaph of Shah Jahan.

An ornately carved marble screen inscribed with verses from the holy Koran surrounds the cenotaphs.

Both tombs are exquisitely inland with semi-precious stones.

Real tombs lie in the crypt below the central hall and are not for public viewing.

Splendid acoustics of the structure are also noteworthy.

Taj is worth more than a single visit as its sublime beauty varies with seasons and of different time of the day.

At sunrise the marble acquires a delicate pinkish touch, while in the afternoon it glows in majestic white and in the evening the colour turns to a soft pearly grey.

On full moon nights the glory of the majestic structure is at its best under the soft and subdued moonlight.
Mehtab Bagh or the "Moon Lit Garden":
It was built by Shah Jahan on the left bank of Yamuna opposite of Taj.

Horticulture wing of Archaeological Survey of India have developed a Mughal garden of Charbagh pattern, as revealed from the excavations here.

A fine view of the Taj can be enjoyed from Hare.
Agra Fort:
Mighty Mughal citadel overlooking river Yamuna was built in red sandstone by Akbar between 1565 and 1573.

Several additions were made to this architectural wonder by Jehangir and Shah Jahan.

Fort has four gates and enclosed by a double barricaded wall of red sandstone.

Some of the excellent buildings within the ramparts of the fort are – Moti Masjid – a white marble mosque, Diwan-e-Am, Diwan-e-Khaas, Musamman Burj –where Shahjahan died in 1666, Jahangir's Palace, Khaas Mahal and Shish Mahal etc.
Itmad-ud-daulah's Tomb:
Exquisite marble tomb set on the opposite bank of the Yamuna from the Taj was built during 1622 – 1628, by Nur Jahan in memory of her father Mirza Ghiyas Beg.

It is the first Mughal monument made of marble and the first to use 'Pietra Dura', the inlay work on marble.
Radhasoami Samadhi, Dayalbagh:
Magnificent marble shrine of Soamiji Maharaj, the founder of Radhasoami sect lies 2 kms north of Agra.

Its construction started way back in 1904 and is still nowhere near completion, as the builders want to create a monument to rival the Taj in size and grandeur.

It is surrounded by sprawling lawns and is one of the main attractions of Agra.
Ram Bagh (Aram Bagh):
Garden was laid down in 1526, by Babur and is one of the earliest Mughal gardens in the country.

Mortal remains of Babur were first buried here before being permanently interred at Kabul in Afghanistan.
Sikandra:
Beautiful tomb of Akbar is a fine blend of Hindu and Muslim styles of architecture, representing his philosophy and secular outlook of the great emperor.

It was completed in 1613 and is still very well preserved.
Mariyam's Tomb:
Exquisitely carved red sandstone tomb was built in 1611 in memory of Akbar's Goan-Christian wife – Mariyam.
Jama Masjid:
Unique mosque was built in 1648, by Shah Jahan's daughter, Jehanara Begum commemorating Sheikh Salim Chishti and his grandson Islam Khan.
ATTRACTIONS AROUND AGRA

Fatehpur Sikri:
39 kms away from Agra city.

Emperor Akbar visited the small village of Sikri in 1568, to seek blessings for a son from the renowned mystic, Sheikh Salim renowned mystic, Sheikh Salim Chisti.

He became the father of a son, as foretold by the Sufi saint and shifted his capital to Sikri to honour the saint and named it as Fatehpur Sikri.

Construction of the new capital city began atop a rocky ridge in 1569 and was completed in 1575.

An artificial lake was dug out and construction of magnificent Jama Masjid marked the beginning of the new city.

This first planned city in Indo-Islamic style was built around Jama Masjid.

Palace courts were laid out parallel to the cardinally aligned mosque and the sequential order of palaces were emphasised by change in level.

Due to the shortage of water and unrest in north-west, Akbar had to abandon the city after sixteen years.

Remains of this 'ghost' city are still in a perfect state of preservation.
Buland Darwaza (Gate of Viceroy):
53.5 metres high gateway commemorates Akbar's successful campaign of Gujarat.

It is the gateway in India and leads to the sacred tomb of Sheikh Salim Chisti.
Sheikh Salim Chisti's Tomb:
White marble mausoleum of Salim Chisti is held sacred by people of all faiths and beliefs.

Enchanting tomb in the courtyard of the mosque has its interior embellished with mother-of-pearl, lapis-lazuli and topaz.
Panch Mahal:
Open five storeyed columnar structure used as a pleasure pavilion by Akbar is set in the corner amidst the female zone of the palace.

It affords a fine view of the palace below and noted for the stone cut – work walls.

Ankh – Michauli, a fine hall is said to be the place where the emperor played hide and seek with royal ladies.

Other interesting sites are Diwan-i-Am or Hall of Public Audience; Diwan-i-Khas or the Hall of Private Audience, an astonishing chamber dominated by a massive carved pillar; Pachisi Court, with a gigantic game board on which the game Pachisi was played using slave girls; Private Living Quarters clustered around a pool; Mariam's Palace; Jodhabai's Palace; Hawa Mahal; Jama Masjid etc.
Aligarh:
83 kms away from Agra city.

Famous for Aligarh Muslim University, founded by Sir Syad Ahmad Khan in the 19th century.

Town is also well known for manufacturing excellent locks.
Bateshwar:
70 kms away from Agra city.

The 'Abode of Lord Shiva' set on the west bank of Yamuna has a number of sacred shrine and bathing ghats.

First temple of Bateshwarnath was built here by Raja Badan Singh of Bhadawar in 1646.

Later on, the temple of Thakur Bihari was built by Diwan Bakht Singh and the Nikunja Bihar Temple by the Raja of Bhadawar.

Shauripur, the ruins of an ancient town located 2 kms north of Bateshwar is said to be the birth place of Lord Neminath, the 22nd Jain Tirthankar.